This is a photo I took when we were on Stewart Island three weeks ago now. It shows the native New Zealand bush most of the island is covered with.
Stewart Island is at the bottom of the South Island of New Zealand (looking at a map of New Zealand, the South Island is the one that looks like a frock and Stewart Island the shape of a sleeping cat.)
This is my third visit to Stewart Island, and each time I've arrived, I've sensed what it really means to 'set foot'. As soon as they feel the ground beneath them, my feet start tingling.
I love its silence and scent. Water and trees. I love the play of calm, white pearly light on the ocean.
Walking round Halfmoon Bay, the bay with the town of Oban and where the ferries dock, we saw overhead, a flock of kakriki (a native parrot with bright emerald-green feathers and red faces.) We could hear their rough, loud caws as they flew to a roost in some trees. We dropped into a small cafe for a coffee and got talking to the American owner. She makes paua shell necklaces and bracelets, which were all pinned up on the wall. She said she can't keep up with the orders - especially in the summer when visitor numbers are higher.
The island is full of bays and forest walks. It was ABM's first visit, and we had one full day only to enjoy a small part of all there is to explore there. But we thoroughly enjoyed our day walking around and savouring the sights and sounds of forest and ocean views. We are rather smitten by the place.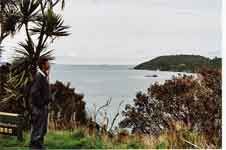 To live there would be to live in a place that feels protected by the sea and trees. It has the intimate feeling of an island; that comforting, included feeling of of being restricted to one small space. But not too small. There are very large areas of bush emptied of any buildings or signs of humans, where one could get away from it all well and truly. It is a hilly island and most of it is coverd by native forest. As well, here are very many, idyllic little bays to discover and explore.
The island has a low-key, positive, communal feel to it. Locals wear gumboots to the one grocery store, and drive there in pick-up trucks with happily grinning dogs on the back. I'd go and live there in a flash.
One of the other people in the group we were with told me later she'd woken up at dawn and could hear kiwis. She described their call as determined - not pretty at all, but with an insistent, strident urgency. (Maybe that's a warning - living on an island might do that to you after a while.)
Stewart Island is special to me too because people I have descended from lived there. A bay is named after them and one of the islands the ferry passes on its way, is also named after an ancestor. This gives me a sense of coming home when I go to Stewart Island. I feel the place is already in my blood. It is a kind of homecoming. I will be back.